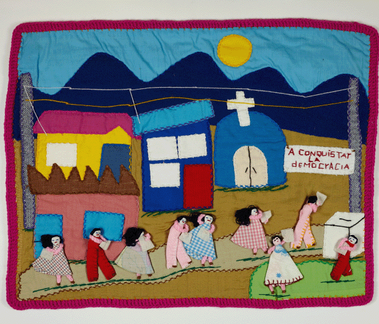 Bio
The dictatorial arpilleras selected for Hilos Conductores come from the Jubilee Crafts' collection via SUNY Potsdam (USA). While not all these arpilleras are signed, some are attributed to individual arpillera makers or workshops. These include Silvia Pardo, Celia Armijo, Soledad Moyanoll and Juana D.from Taller Santa Elvira, Ester from Taller Santa Adriana, Taller Mujeres, La Nueva Esperanza, Taller Los Amigos, La Araucaria Taller, Taller La Faena, and an unidentified workshop in Puente Alto.
Jubilee Crafts was a women's collective that sold fair-traded international crafts in Germantown, a working-class neighborhood of in Philadelphia, between the 1970s and 1990s. Among other items, the collective sold and exhibited hundreds of arpilleras to support economically vulnerable populations and to educate people about U.S. foreign policy toward Chile.Decades after Jubilee Crafts closed its doors and Chile returned to electoral democracy, this arpillera collection ended up in the North Country region of New York thanks to M.J. Heisey, a member of the collective and history professor, who joined her colleagues at SUNY Postdam and St. Lawrence University through the Forging Memory project to research the collection and exhibit it in Spring 2019. As part of this project, the Forging Memory team interviewed arpillera makers María Madariaga, Patricia Hildago, Victoria Diaz,Emilia Vasquez Requelme, Laura Herrera, Carmen Aravena Indo, Aida Moreno and Sylvia Avancado.
The Jubilee Crafts collection is currently under the care of Chilean professor Liliana Trevizan, who will return the arpilleras to Chile as a donation to the Museo de la Memoria y los Derechos Humanos in Santiago.