Ana Luisa Bernárdez Notz is a Venezuelan multidisciplinary artist and DJ residing in Toronto since 2015. She holds a Bachelor of Fine Arts in Photography from OCAD University 2020, and was recently a mentee in Sur Gallery's 2019-2020 Mentorship Program. Ana's work has been shown in Toronto, Halifax, Berlin and Caracas, as well as included in various online and print publications from Canada and the USA. Currently, her explorations are rooted in the Venezuelan migrant crisis and collective sentiments of loss and longing. Her most recent projects look into body-land ties that are ruptured, paused and transformed due to migration and lack of physical proximity, focusing on her own experience being away from the landscapes she grew up frequenting. As a DJ, she acknowledges the power of music for creating safe spaces that honour migrant joy, diversity and resistance. She currently co-hosts Cuarenteca, an online latinx party born out of the COVID-19 pandemic.
denirée isabel is a Venezuelan born, Canadian based artist. Being an immigrant and living as a part of the Venezuelan Diaspora has largely influenced her work. It has informed the manner in which she operates and experiences living in an affluent Western society. As a result, she examines and criticizes the relationship of being nide aqui ni de alla (not of here nor there). As an artist, her material focus is exploring textiles through a spatial, interactive and interdisciplinary lens. Her conceptual practice revolves around the study and reflection of identity, culture, and womanhood, aiming to create spacep hysically and emotionally for vulnerability and healing on the intra and interpersonal. She holds a Bachelor of Fine Arts in Textiles with a minor in Art History from Nova Scotia College of Art and Design. She also graduated from Sheridan College in 2014 with an advanced diploma in Textiles. After graduating from NSCAD, she was accepted into the university's community arts residency in Lunenburg, Nova Scotia, where she spent a year living and working in the community. In 2017, denirée was accepted as an artist in residence at Harbourfront Centre and has since been in the program. In 2018, she was arecipient of an Ontario Arts Council grant. She exhibits regularly in Torontoand Halifax.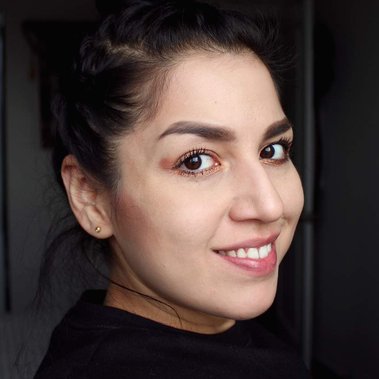 Michelle Peraza is an Ontario based emerging artist of Cuba and Costa Rican descent. As a second-generation female Latin American Canadian painter, she explores the Latinx identity though large-scale portraits of individuals close to her, people often unseen in the history of the painted portrait due to their ethnicity. Michelle focuses on the male sitter as a catalyst to stimulate conversations, concepts, perceptions, and realities of the patriarch. Her use of portraiture allows her to render it a site for addressing issues of race, culture, tradition, value systems, migration and familial hierarchy. These themes have led her to take interest in ways of integrating her own relationship with her husband and his family, Indian immigrants and/or nationals. Michelle holds a Bachelor of Fine Arts in Drawing & Painting as well as a degree in Classical Studies and World Religions from WesternUniversity. Her education in antiquity continues to influence her classical aesthetic and highly realistic interpretation to the human face. In 2019Michelle received the Ontario Arts Council: Exhibition Assistance Grant for her solo show, Patria Potestas, at Northbound Gallery. Currently,Michelle is pushing the boundaries of portraiture, exploring the use of colourand breaking form in her paintings on an unconventional substrate, aluminumsheeting.
Camila Salcedo is an interdisciplinary artist, activist, and community organizer who explores art-making via mediums including performance, video, textiles, and curation. She makes art because she is interested in questioning systems and institutions created to define us such as nations, identities, politics, and migration. She was born in Caracas, Venezuela and immigrated to Toronto, Canada in 2007. She has a Bachelor of Fine Arts Interdisciplinary from NSCAD University in Halifax, Nova Scotia, and graduated as the elected Valedictorian of the Class of 2018. She has exhibited nationally in several galleries, artist-run centres and festivals including Eye level Artist-Run Centre, articule, the Anna Leonowens Gallery, Nocturne Art at Night, Art in the Open, RiAP (Rencontre International d'Art Performance de Québec), the Khyber Centre for the Arts, among others, and internationally at Proyecto 'ACE in Argentina, and at the Gallery of the University of Stellenbosch in South Africa. She has participated in seven artist-residencies through Arquetopia and The Lab Program in Mexico, Residencia Corazón and Proyecto 'ACE in Argentina, Arquetopia in Peru, Eye level Artist-Run Centre's Heat Waves Mini-Residency in Halifax, Harbourfront Centre's Craft & Design Textile Studio in Toronto and Arquetopia's Online Residency.
Aline Setton is a Brazilian artist whose practice primarily focuses on painting. Having grown up in São Paulo, she has been deeply influenced by the accelerated, compressed and densely populated urban environment. Aline attended the architecture and urbanism program at Escola da Cidade university in her hometown before moving to Northern California, USA to study studio arts and become a painting apprentice. The shift from living in a metropolis to the countryside has furthered her understanding about the impact surroundings have in our ways of experiencing physical spaces. Aline taps into the cumulative effects of these changes of landscapes to create narratives using abstracted fragments of architecture, geographies and cultural references. She finds inspiration in nature, the utopian modernists and the cubist attempt to reveal a succession of different points of view in one composition. Aline has exhibited in Brazil,Canada, United States and Portugal. Recently she has taken interest in themes such as migration and ecological impact, using abstraction to study spatial configurations bringing art, architecture and nature together on a pictorial plane, which she now explores in her Toronto based studio.