Book Launch: Latin America Made in Canada
Aa special book launch of Latin American Made in Canada, edited by Maria del Carmen Suescun Pozas and Alena Robin, published by Editorial Lugar Común, at Sur Gallery.

About The Book
Latin America serves as a placeholder for culture and values that inherently set it apart from Canada. In addition to the Latin America that is embodied in the people and goods that come from the near and distant south, Latin America speaks to us from within Canada, insofar as local and transnational awareness is incorporated into Latin American poetics and traditions that are mediated by those who—regardless of their birthplace—are based in Canada. Latin America Made in Canada explores the making of Latin America as part of the cultural heritage of both Latin America and Canada.
This collection of original essays is divided into four chronological sections: trans-American pathways of neocolonialism shows how ideologies rooted in colonialism and racism persist in the postcolonial era; from outsiders to insiders tears down the imaginary cultural and linguistic wall that separates the two regions, and offers a glimpse into the ways in which people previously perceived as outsiders become insiders; building community considers strategies that people who were born in Latin America mobilized to root themselves in Canada and organize for political and artistic ends; and hall of mirrors provides examples of immersive experiences that facilitate the dissolution of distance. Essay topics encompass a full range of practices in mainstream journalism and ethnic media, the tourist industry, curatorial and exhibiting practices, performance in culture and the arts, linguistic landscapes, and music education. Following in the steps of cultural history and political science, which delve into intercontinental relationships, this book explores cultural production as part of Canadian-Latin American relations, with a particular focus on how Latin America is rooted in Canadian soil.
To order a copy of the book please visit: https://lugarcomuneditorial.com/en/ or email info@lugarcomuneditorial.com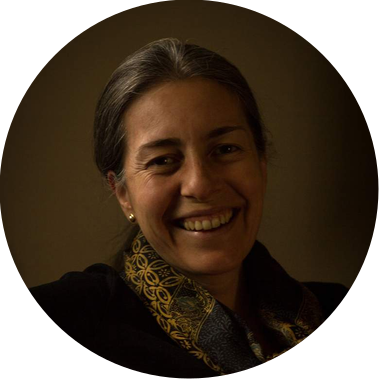 Maria del Carmen Suescun Pozas
Maria del Carmen Suescun Pozas is Associate Professor in the Department of History at Brock University (Ontario). She completed her Bachelor of Fine Arts at Concordia University, continuing on with a master's in Art History, and a Joint PhD in History and Art History at McGill University, and a postdoctoral research position in History at the Université de Montréal. Former president of the Canadian Association for Latin American and Caribbean Studies (CALACS), she is editor of The Art of Solidarity: Visual and Performative Politics in Cold War Latin America with Jessica Stites-Mor (University of Texas Press, 2018).
Alena Robin
Alena Robin is an Associate Professor and Chair of the Department of Visual Arts at Western University. Her research interests focus on religious art in colonial Mexico, issues of conservation of cultural heritage, and the presence of Latin American art in Canada. Her book Las capillas del Vía Crucis de la ciudad de México was published by UNAM in 2014. She also co-edited guest issues for the scholarly journals Arts, Latin American and Latinx Visual Culture, and RACAR, and published articles in different national and international scholarly journals. She is currently collaborating with the Museo Regional de Guadalajara as a guest curator.
Contributing authors:
Andrea Ávila, Rosana Barbosa, Nuria Carton de Grammont, Ana Chiarelli, Jason Dyck, Natalia Lara Diaz-Berrio, María Eugenia de Luna Villalón, Francis Peddie, Dianne Pearce, John-Alexander Raimondo, Mariza Rosales Argonza, Sarah E. K. Smith, Madeleine de Trenqualye, Victoria F. Wolff.