If we understand colonialism to be a period of socio-historical and geopolitical relations as well as an imposed economic condition in which the sovereignty of a nation rests in the power of another, then we must also understand that coloniality refers to the ongoing patterns of power domination that emerges as a result of colonialism. Hence, coloniality is a result of colonialism, and is ongoing within a neoliberal system in which capitalism plays a crucial role with its system of domination and exploitation.

Western modernity would not be possible without coloniality and vice versa. Nonetheless, a decolonial turn has shifted frameworks, discourses, and practices, opening possibilities for knowledge, growth, and change. As Nelson Maldonado Torres explains, "decoloniality refers to efforts at rehumanizing the world, to breaking hierarchies of difference that dehumanize subjects and communities and that destroy nature, and to the production of counter-discourses, counter-knowledges, counter-creative acts, and counter-practices that seek to dismantle coloniality and to open up multiple other forms of being in the world."
This panel highlights a myriad of possibilities of how to provide clarity, insight, resiliency, and defiance, to confront our present state of coloniality. The counter-narratives presented by the panelists, challenge structures of power and build community through ideas and practice, offering different world views: decolonizing institutions, museums, and systems; designing activist strategies of defiance; and sharing the power of art as a medium to communicate resistance and communal activism.

Rodrigo Barreda
Rodrigo Barreda is a designer, design curator, and creative director with over thirty years of experience in the arts, cultural, and social services sectors. He holds a Master's in Design in strategic foresight and innovation from OCAD University located in the traditional territory of the Haudenosaunee, the Anishinaabe and of the Mississaugas of the New Credit First Nation, where he also lives. Rodrigo's current research practice focuses on the conception of speculative design principles through the intersections of Indigenous worldviews and practices, and contemporary communications, strategy, and systems design principles. Rodrigo has been an active member of the diasporic Latinx community of artists and designers, a co-founder of Sur Gallery in Toronto, a visiting lecturer at OCAD University, and currently is Senior Manager of Design at United Way Canada.
Talk: Chile: Design Strategies Against Neoliberalism
This paper examines three distinct design proposals and aesthetic responses to Neoliberalism in Chile, and how these may serve us as reflections of the necessary shift in approaches to communications design and design strategy today. It focuses on popular art and design as vernacular practices that synthesize and expand the histories, demands, and political aspirations of individuals and communities living in the margins of society, under systemic oppression, ideological-polarization, and the imposition of neoliberal colonialism. The design proposals discussed—The muralist movement of the 1960s, the No Campaign of 1988, and street art during the 2019 uprising—are presented both as practices that contest, interrupt and defy systemic oppression, while at the same time inform, create dialogue, and support the emergence of new ways of knowing and being. Concepts of oppositional consciousness, ch'ixi, and reconciliation are suggested as a lens through which prevailing practices in conceiving, understanding, and creating—in other words, designing—can be examined, critiqued, and reconceived.
Armando Perla
Armando Perla is a consultant collaborating with museums, cultural institutions, and communities on issues of human rights and social inclusion in Canada and abroad. Perla holds a Bachelor of Laws from l'Université Laval in Canada and a Master of Laws in International Human Rights Law from Lund University and the Raoul Wallenberg Institute of Human Rights and Humanitarian Law in Sweden. He was an Assistant Professor on Decolonization and Race in Museums and Heritage with the Master of Museum Studies, Faculty of Information at the University of Toronto. Perla is founding team of the Canadian Museum for Human Rights and the Swedish Museum of Migration and Democracy, as well as an International Advisor on Museums, Human Rights, and Social Inclusion for the City of Medellin, Colombia. He is currently pursuing a doctorate in Art History and Museology at the University of Montreal and is the Chief Curator for the Toronto History Museums.
Title: Minimizing Colonial Harm in the Museum and Art Sector through the use of a Human Rights Museological Practice
This presentation will examine the differences between approaches to decolonization by Indigenous peoples in CANZUS states (Canada, Australia, New Zealand and the United States) and human rights by Indigenous people in Latin America, Asia, Africa and Northern Europe. This talk will also present practical examples of how a human rights-based approach can serve to further decolonial and Indigenous praxis that can make the museum and art sectors less harmful for those who fall outside the colonial canon.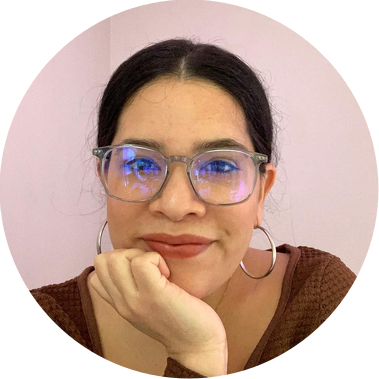 Luz Sierra
Luz Sierra, Boricua arts professional, focused on photography and art history. Her professional interests are creating accessible projects to foster community engagement through photographic archives and museum collections. Her research interest is to trace photographic materials of the Circum-Caribbean region and place them within new queries of neo-colonial historical narratives. She holds a Bachelor of Fine Arts in Photography with a minor in Western Art History from the University of Puerto Rico, Río Piedras Campus. Currently, Sierra is pursuing a Master of Arts in Photography Preservation and Collection Management from X University in Toronto.
Title: "Knock on wood": Creating a Decentered Finding Aid for the Montgomery Collection of Caribbean Photographs at the Art Gallery of Ontario
The presentation will center on the ongoing thesis project to intellectually organize the Montgomery Collection of Caribbean Photographs in a bilingual English-Spanish finding aid at the Art Gallery of Ontario. The discussion will encompass an overview of the Montgomery Collection compilation and institutional acquisition, the selected scope of materials, and the purpose of the thesis project. Furthermore, it will engage in discussing the research questions, the chosen methodology, what has been completed in the finding aid, including further plans for the Montgomery Collection, and what tasks are still to continue to conclude the thesis project.
Tamara Toledo
Tamara Toledo is a Toronto-based curator, scholar, and artist. She is co-founder of the Allende Arts Festival and of Latin American Canadian Art Projects. For the past fifteen years she has curated exhibitions and projects offering spaces and opportunities to Latinx and diasporic artists in Canada. Founder and curator of the Latin American Speakers Series, Toledo has invited internationally renowned contemporary artists, philosophers, critics, and curators to Toronto to articulate and discuss issues of identity and intercultural dynamics in contemporary art. Toledo has presented her work at various conferences in Montreal, New York, Vancouver, Chicago, Mexico City, and Toronto. Her writing has appeared in ARM Journal, C Magazine, Fuse, Canadian Art, and the Latin American & Latinx Visual Culture Journal of the University of California. Her curatorial and academic practice follows an intersectional approach and embraces decolonial methodologies and practices to explore issues of memory, power relations, uprooting and displacement, social dynamics, and the unthinkable possibilities of art practices. Toledo is presently the Director/Curator of Sur Gallery, the only space dedicated to contemporary Latin American art in Canada and is currently a PhD candidate in Art History and Visual Culture at York University.