Determined by race, gender, class and immigration status, Luis Cisneros, Sebastián Oreamuno, and Faune Ybarra share their work while providing social, political, and cultural context. Their position as Latinx diaspora living in Canada influence their subjects and themes.

Luis Cisneros
Luis Cisneros is a non-binary Mexican/Canadian artist born in Mexico City who currently resides in the cities of Belleville and Toronto, Ontario, Canada. As being part of these two cultures ze explores the ideas of land, race, immigration, identity, family dynamics and queerness. Hir diaspora experiences are reflected in hir work by using figurative symbolism and self-portraits creating narratives of multiculturalism. Luis predominantly works in sculpture and painting but ze also works with film where ze renders themes of Mexican and Canadian culture highlighting hir identity.
Talk description:
I am a non-binary Mexican-Canadian artist who explores my identity as an immigrant with a mixed race heritage and my relation to Mexican diaspora living in Toronto. One way to explore my identity is to create tridimensional self-portrait paintings where I question the body politics I was taught, by rendering my femininity or non-binary persona. With these paintings, I want to confront stereotypes of gender body and its relations with these cultures. By using figurative symbolism in the artwork I can create connections between Canadian and Mexican cultures and position the work within that context. These tridimensional paintings are built with mixed media to show the complexity of the work and its physical qualities, their socio-political context, places of origin and connections to the land. Most materials I use have a history of production in which the process takes place in many parts of the world, like a person belonging to two lands.
My intention with my art practice is to both criticize the barriers, discrimination, and violence faced by those who share my BIPOC, diaspora, and LGBTQ+ identities and to celebrate our experiences, traditions, and self-worth as diverse peoples.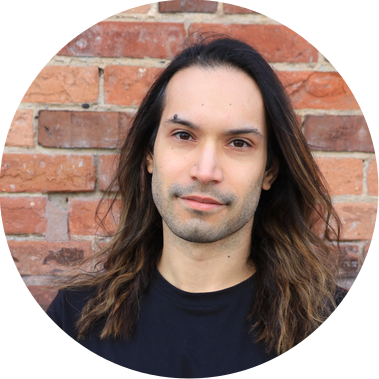 Sebastián Oreamuno
Born in Santiago, Chile, Sebastián Oreamuno is a queer Toronto-based artist and academic. Sebastián holds a BA in Psychology from Simon Fraser University (Vancouver), an MA in Dance from York University (Toronto) and is currently pursuing his PhD in Dance Studies at York. His doctoral research explores the relationship between memory, place-making and cueca (the Chilean national dance). Other interests include the participatory body, popular culture, men and pointe, and multi-media artistic practices. He has performed/danced for Aria Evans, Noémie Lafrance and Sashar Zarif.
Talk: red and rojo
In this artist talk, I will speak about an ongoing multi-media project that explores my identity and experience as a queer, 1.5-generation Chilean immigrant to Canada through the colours red and rojo (the Spanish word for "red"). In "red and rojo" I focus on the memory of learning the colour red in elementary school with my ESL teacher, which was disorienting. In Chile, I had learned to identify rojo with a particular hue. In Canada, I learned that rojo was called red. But red was not rojo. Red had more of a pinkish hue than rojo, which seemed more orangey next to red. This confused me as an 8-year-old child since I was supposed to understand that rojo was red, that these words were translations of each other. But red was not rojo.
Through "red and rojo," I explore the sensorial and sense-making shifts that occur in the context of im/migration as well as what gets lost in translation, which is not always or necessarily a semantic loss. I engage abstract drawings, and short reflections that return to that memory, to recuperate and rediscover. Thus far, I have found the process (and project) grounding because it has allowed me to investigate my identity as residing between two cultural horizons, sometimes coming together and mixing, and sometimes pushing apart—much like red and rojo in the drawings.
Faune Ybarra
Currently dwelling in Vancouver, Faune Ybarra is a diasporic artist originally from Oaxaca and Mexico City. Due to the experience of constantly moving and adapting, Ybarra conceives of her body as a site of translation from where she attempts to communicate with the other- than-human. Her iterative practice rejects the (art)object as a given outcome and instead speculates on how nomadic creative methodologies converge to document motion. Past repositories of her work have taken the shape of performance, photo-based objects, and diasporic gestures.
https://www.faune-ybarra.online/

Talk description:
I think a lot about making and writing in a language my mom didn't teach me, a language that most of my family can't read. I wonder then if adopting a latinx-canadian label is a way to sound the in-betweenness of language and the land that seeded me. Or if it is another way to render myself legible to those institutions which cannot discern beyond national traits.
Noor Alé
Noor Alé is an independent curator, art historian, and writer. She is the Associate Curator at The Power Plant, Toronto. Her curatorial practice examines the intersections of contemporary art with geopolitics, decolonization, and social justice in the Global South. Alé has contributed to curatorial research, exhibition management, and public programmes at the Visual Arts Centre of Clarington, Bowmanville; National Gallery of Canada, Ottawa; Solomon R. Guggenheim Museum, NY; and Art Dubai. She holds an MA in Art History from The Courtauld Institute of Art, and a BA in Art History from the University of Guelph.
Alongside Claudia Mattos she co-founded AXIS, an independent curatorial laboratory dedicated to exhibiting socially-engaged contemporary art. Their most recent exhibitions include EXTRACOLONIAL: Reflections for Action, Sur Gallery, Toronto; and LAW & (DIS)ORDER, Vtape, Toronto. She was awarded curatorial residencies at the Banff Centre for Arts and Creativity, and the Shanghai Curators Lab.