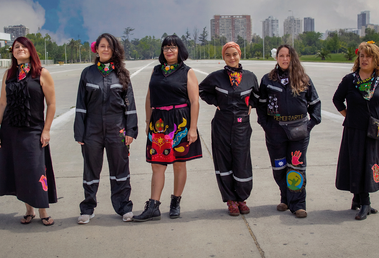 Bio
In 2015, Erika Silva, Alejandra Campos, y Cynthia Imaña invited Pamela Monasterio, Ximena Fernández, Ana Reyes to the Memorarte collective and began work within the neighbourhood of Pedro Aguirre Cerda in Santiago, Chile. They organise their textile work around the slogan "Bordar para Incidir" which can be translated to"embroidery for change". Through their work in the collective, Memorarte has developed a distinctive style, creating large-scale textiles that are activated within marches, protests, and other public spaces. In 2020, they created the Escuela de Arte Textil y Resistencia where they teach virtual and in-person classes related to the creation of protest arpilleras, embroidered handkerchiefs, feminist textiles, and others.
Memorarte have collaborated with: Greenpeace in different projects for the defense of water and against salmon fisheries; they have participated in different research related to textile art, human rights, and feminism; and they have collaborated with academic projects, and other artistic organizations.
Memorarte has exhibited their work in the Murray Edwards College of the University of Cambridge; the London School of Economics and Political Sciences U.K; Le Rocherde Palmer and the Instituto Cervantes in Bordeaux, France; the United Nations; the Gabriela Mistral Centre (GAM), and the Museo Violeta Parra in Chile.